How to Set Up Marks for Triangle Yacht Race Courses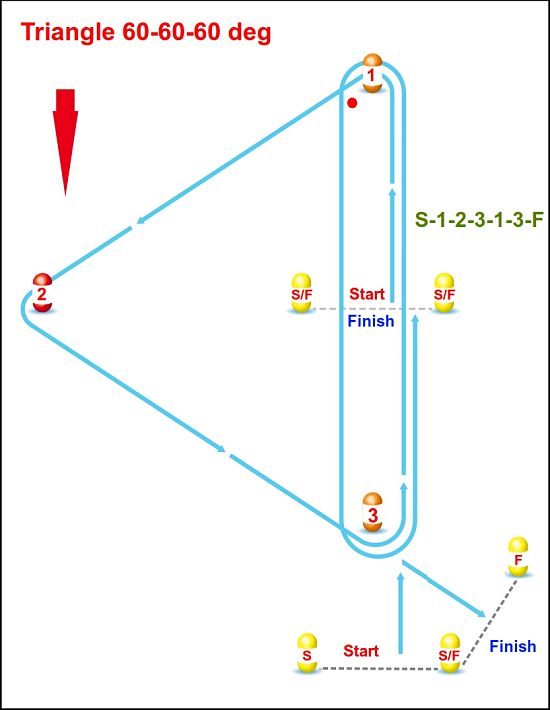 The Triangle or Olympic coarse offers competitors the full array of sailing angles to the wind with reaches, beats and downwind legs in various combinations. The marks can be set using bearings from Mark 3 as the reference point. Often Marks 1 and 2 are set up in a chain sequence. Mark 1 is positioned using a bearings back to Mark 3. Mark 2 is positioned using bearings from Mark 2 and Mark 1, and from Mark 3 to Mark 3. An 'offset', 'protective' or 'separation' mark is often set to Port of Mark 1 to avoid congestion and interference between yachts that have rounded Mark 2, and yachts that are still beating upwind towards the mark. It is also useful to keep yachts rounding Mark 1 and reaching towards Mark 2 clear of yachts sailing upwind on the port layline.
There are various positions for the start and finish lines. The Web Apps listed below provide bearings and back bearings for an entered wind direction. There is Universal Tool for which the reach angles need to be entered. There are also tools that show the lat/longs for all marks in relation to an entered location or using geolocation for your current location. There are pre-filled options for 60-60-60 and 45-90-45 Triangle courses. Apps for both Port and starboard rounding triangles are provided. The two reach lengths to and from Mark 2, will depend on the reach angles. The leg lengths for a 60-60-60 degree triangle are all the same. The reach lengths for a 45-90-45 degree are about 2/3 of the beat length (71%). It is relatively easy to change the course when the wind changes direction. Simply re-locate Marks 2 and 3 using revised bearing provided by the Web Apps for the new wind direction.
Web Apps Available
The Lat Long versions include a geolocation tool - Refloc. This can be used to set the reference at the bottom mark (Mark 4) when you are next to it. It works on most phones, allow 6 seconds to hone in.

Triangle LatLongDD format for Lat/Longs
Triangle LatLongDMM DMM format for Lat/Longs
Triangle LatLong Starboard DD format for Lat/Longs
Triangle LatLong StarboardDMM DMM format for Lat/Longs

Triangle 45-90-45
Triangle 45-90-45 starboard
Triangle 60-60-60
Triangle 60-60-60 Starboard

Triangle Universal
Triangle Universal starboard
MAP Options - Virtual GPS Unit for Laying the Marks
Note: Works with most phones, but Smartphone with GPS is best for accurate positions. Allow 6 seconds to hone in. Enter the Lat Long for the Reference Location Mark 3 or Mark 4 (for Trapezoid) or use the Geolocation Tool set it for your location when you are at the mark. Once the options have been entered a map will be displayed. Then, to set a mark, proceed in its direction using the bearings shown below the map. Click the ShowMyLoc button to show your current position as a 'dot' on the map. Click it again to show your new position on the map. Drop the mark when you get there. A virtual GPS unit on your mobile. The options are:

Triangle DD Map DD format for Lat/Longs, MAP
Triangle DMM Map DMM format for Lat/Longs, MAP
Triangle Starboard DD Map Starboard DD format for Lat/Longs, MAP
Triangle Starboard DMM Map Starboard DMM format for Lat/Longs, MAP
Indicative 60-60-60 Triangle Course Leg length for Target Elapsed Times under Various Wind Speeds
To set courses for target elapsed times you need an indication of yacht class speeds under various wind conditions. Speed charts are available for various Olympic classes for upwind, reach and downwind legs - See SPEED AND DISTANCE CHARTS FOR THE OLYMPIC CLASSES.

The speed charts for Laser and 470 classes have been used to develop indicative 60-60-60 triangle leg lengths for various triangle and Sausage (Windward and Return) courses for various expected elapsed times. See Laser and 470 Expected Speeds. These speeds have been used to develop target leg lengths for courses with various elapsed time length under winds ranging from 5 to 15+ knots. See Indicative Leg Length for various elapsed time courses for various wind strength ranges
BONUS!!
We have developed a hand tool for getting bearings and back-bearings for
Protractor Tool 60-60-60 degree
and
Protractor Tool 45-90-45 degree courses
which are shown below. To use these tools:
=> Print two copies of each and get them laminated
=> Cut out the centre disk from one copy
=> Pin or bolt it, carefully aligning it, so the inner disk can be rotated, but is held firm.
=> To use simply set the arrow to the Windward Direction and all the Bearings and Back-Bearings can be read.
=> The tool can be used for both Port and Starboard rounding courses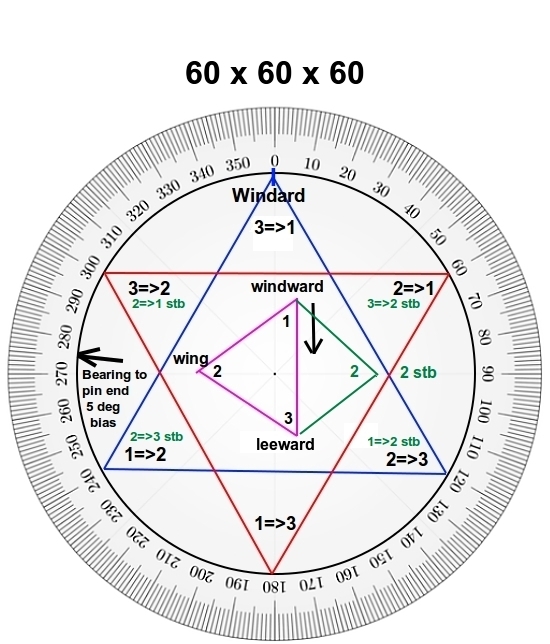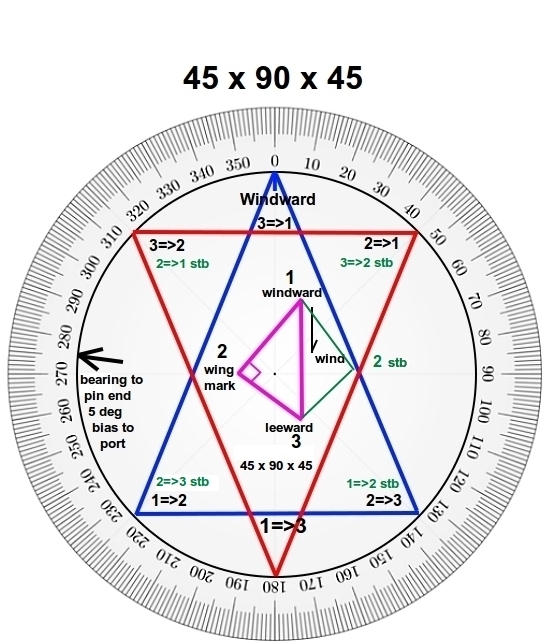 Mark Bearing Tables
Mark Bearing Tables are provided for
Traingle 60-60-60
and
Triangle 45-90-45
and for
Trapezoid 60
Source:
Solentxtra -60
Trapezoid 70
Source:
Solentxtra -70
A set of Dials for various courses can be found here
Race Management/Peter van Muyden race management tools